Special Services for Seniors
In an effort to make every move safe and smooth for our senior clients, there are a host of details we willingly assume when necessary. The following examples are indicative of the detailed approach we routinely take on behalf of those in our charge.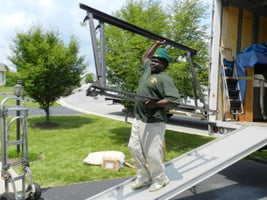 We watch for frayed electrical cords on old lamps, clocks and appliances and get them repaired or replaced.
When packing, we discard outdated cans of food and expired medicines. We alert clients to broken bed slats, loose or split chair and table legs, and arrange for repair – often during the course of a move.
We provide non-skid rug pads for area rugs and install them. Always safety conscious, we provide free smoke detectors and install them wherever needed.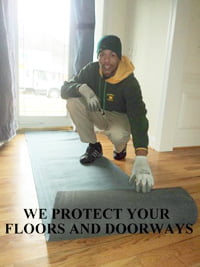 We give away Crowning Touch night lights and put them in high risk areas. Eyeglasses, phones & phone books, important papers, remote controls, and important food, medicine & clothes are packed separately & hand carried so they are immediately available.
When resettling, we will put shelf paper in the kitchen, and provide vinyl covered wire shelving to increase storage space in the cabinets and make access easier. We even install non-skid decals on the tub floor and provide new shower curtain rings and toilet cover sets because the sizes are frequently larger and the client is unprepared.
We will arrange for the disconnection and re-connection of all utilities, cable service and mail delivery. Crowning Touch will provide chauffeur service on moving day or provide an attendant if the client needs attention.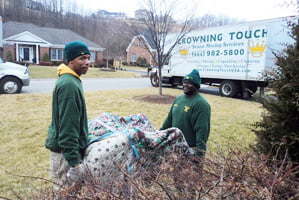 We have often provided meal service as well. We plan every move so that comfortable seating is always available and we rush to make the beds at the new home so they are ready for clients who need to rest.
Crowning Touch is the only moving company in America with a consignment shop, auction house and real estate division.
Open Tues. thru Sat. , 10 a.m. to 5 p.m. Closed Sundays. Please call for holiday related changes to our regular schedule.
ALL CONSIGNMENT/AUCTION ITEM(S) DROP-OFFS ARE BY APPOINTMENT ONLY
Monday through Friday 8 a.m. to 5 p.m.
Closed Saturday and Sunday.
Monthly Auctions In-House or Online! 
Next Auction:  October 12-14