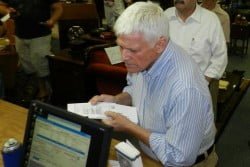 Thursday, December 7th
10am – 6pm
Friday, December 8th
10am – 8pm
Saturday, December 9th
10am – 8pm
Sign up to be notified about our monthly Auctions

Recent Auction House Testimonials
Crowning Touch is the only moving company in America with a consignment shop, auction house and real estate division.
Open Tues. thru Sat. , 10 a.m. to 5 p.m. Closed Sundays. Please call for holiday related changes to our regular schedule.
ALL CONSIGNMENT/AUCTION ITEM(S) DROP-OFFS ARE BY APPOINTMENT ONLY
Monday through Friday 8 a.m. to 5 p.m.
Closed Saturday and Sunday.
Monthly Auctions In-House or Online! 
Next Auction:  December 7-9