Recent Moving Testimonials
Debbie Straw
Moved April 2018
"Crowning Touch provided so many services to make this, otherwise emotion and painful process, less stressful and even exciting. I hope I can find a provider in Texas with at least a couple of these services. Thank you to the whole team!"
Check out Debbie Straw's full testimonial
"Movers arrived Early, Fantastic! The move was so smooth. I'm so appreciative and would be happy to recommend Crowning Touch."
Leslie M.
Moved April 2018
"Excellent job by all. Hard workers, polite and on time. I will use you all again."
Betty and Tony
We packed them, moved them and unpacked them. Then we sold what they no longer wanted when they downsized into their retirement community. Everyone was thrilled with our level of service, especially their children."
"The moving services of Crowning Touch were wonderful! After deciding to move, my neighbor Patty Crizio, had used your company and highly recommended it to me. From my first visit to your office, I was treated with great kindness. Linda came over 50 miles to check out what needed to be moved. On July 18th, 2014 right on time, I met TJ, JR, Jesse, & Dan. These guys were super and handled my furniture with great care, especially my great grandma's antique dresser. They were very professional but yet seemed like great friends before they left. I appreciate all the assistance from the guys as well as their courtesy shown to me and my family. Outstanding work and I'll be sure to tell others about Crowning Touch!"
"I am in the process of working with "A Crowning Touch, which is primarily a senior moving company in Roanoke.

"Let me first say moving is stressful/traumatic for anyone, let alone an aged widower (my father) moving from his home that stored 60 years of memories. Downsizing also affects the adult children, as they lose a family seat, the home place of childhood. Even though a move is seen as "forging ahead," the change is in itself an ending, a death of a time and place — first steps, few day at school, graduations, holidays, birthdays, weddings, births…

"With that being said, my elderly father in a 2-week span lost his beloved older sister, his nephew, his wife (my Mom) and the family home (on the market 6 yrs sold 3 1/2 hours after my mother passed away.)

"Our family was hit with much change at once, not only a grieving period and funerals, but a pending real estate closing that required a fast, organized and skilled response to empty a very large (8000 sq ft house), filled to the ceilings with belongings.

"I had the good fortune of having "A Crowning Touch" recommended to me. Linda Ballentine and her crew managed to do incredible logistics, as I, my sisters, and her crew kept pulling out THOUSANDS of items Dad and Mom had ferreted away. Over a three day period, the crew arrived in WV early morning to continue sorting, cataloguing, inventorying, packing and loading. The incredible thing was not only did this company have to transport items to Roanoke for auction, but also sort and load for delivery to three family members living in three separate cities in Eastern Virginia.

"And they did it. Never a complaint, the staff never let us see how tired they must have been. If any of my family needed help, they always left their task at hand with a smile and tremendous energy. Small items, such as my father's gold WWII medical pins were located and given to the family, along with money and a gold coin.

"The items moved to our (the adult children) homes have arrived intact ( –a few items were mixed up, but quite frankly, it was family error and NOT the company's) The remarkable thing is that after 6 large trucks, incredible logistics and patience/kindness with a family grieving, they got it all done, the large house was cleared/cleaned and the real estate closing was on time.

"I could never, NEVER accomplish what needed to be done without them. I am so thrilled with their service that I have had to write you. I am so very grateful to Ms Ballentine and her staff, and wish to commend Roanoke for having such a fine business in its community."
"Wanted to let you know that we had the most positive move in all the many, many relocations experienced before! If you remember, I noted that both Richard and I together and separately had moved every 2 1/2 years on average over the last 70 years.

"Your crew was a delight. We had TJ, Mike, and JR. I've never heard any other crew laugh as much as yours did, while being VERY productive at the same time. They really worked hard and were wonderfully polite and helpful at every turn.

"While we both keep saying that this is our LAST move EVER, should something change, we will certainly turn to Crowing Touch for assistance [without even bothering to get other estimates this time!]"
"Linda, I cannot express my thanks and compliments enough to the employees you had to help us with our move Friday and Saturday this week. The 3 ladies were so joyful, happy, helpful and polite. They worked so quickly and efficiently with smiles and joking (and actually singing as well) with my little ladies. The 3 gentlemen that moved all that furniture and boxes, were just that… Gentlemen in the highest sense of the word, something that is a quality that is soooo rare these days.

So much respect was extended fro all 6 of your people and it was so evident from the second they walked in the door until they were finished. My little ladies were put at ease with every step of this experience with the move, from your initial visit, (oh so many months ago) to the last box being delivered. I was having great concerns regarding this move, with their age and health concerns and their very bad experience in the past with a move with someone else.

Words do not express the thanks I wish to extend to you and your staff. Every person I have spoken with in person as well as over the phone, all were extremely courteous, helpful, and polite with any of my questions and concerns.

Thank you for creating this company and the service you offer our Senior Citizens. So many take advantage of them and this is always wrong on so many levels. The work ethic of your staff and the total cost is beyond words of praise, your company is what every company should strive for in service. Thank you again!"
"Ms. Balentine, I cannot praise Crowning Touch Senior Moving Services enough. And not since my intensive medical training regimen have I seen so many men work so hard, so carefully, so harmoniously together. They function as one well-made living organism. Plus they're delightful, joyful and lift the spirits of the home owners. We cannot salute Jerry or TJ enough. What supremely capable young men they are. Do please thank them again for us. I find myself looking for your employees in crowds. They moved our belongings and touched our hearts! You run a wonderful business and service to others. Thanks so much."
"I did not want to let the sun set on the week that I did not express my appreciation for Crowning Touch's terrific work helping move my 93 year old mother. Jerry, Jason and Orlando did a wonderful job Tuesday, September 18th, moving Jean Coots from her Orchard Lake residence to The Glebe retirement community. Prompt, courteous and diligent, the Three Musketeers did the whole job – start to finish – in four hours 9 a.m. to 1 p.m. They just fussed over things, making my mother's wishes the most important thing in their day – and she ate it up! Our whole family could not be happier with your company's outstanding work. When you have young fellows like Orlando offering to do the little extras that mean so much, your recruitment and line management must be doing something right. "We give every single job an A+ effort," Orlando offered. These guys bring good luck with 'em in the truck, too. The rain storm that day held off until noon. Jason, Orlando and I stood under a shelter only to see Jerry hauling a tarpin-covered load out of the truck. "That's why he's the boss," somebody said, and we all plunged out into the storm to finish before 1 o'clock."

Your guys made our day!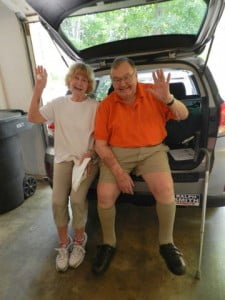 Diane Blevins
The movers were early and got directly on the job! They performed the necessary tasks in an excellent manner. They went the "extra mile" to do what we asked to please us."
"This whole experience with your company has been great. From the time Tidy's dumpster arrived until I shook hands and signed the papers at the end, everything moved as smooth as clockwork. The gentlemen that delivered and picked up the dumpster was very courteous and friendly. When Jerry, TJ and Barbara came with all the energy any three people could have, they went straight to work, and it tired me out just watching them work. It was done effortlessley and they were all business. They did everything that needed to be done and on the last day, Jerry and TJ wanted to be sure they had done everything I wanted done. I work at Johns Hopkins Medicine in the Client Services Department and I know what good client service is. Keep up the good work and Thank You!!"
"Linda, you were right, this was the best moving experience ever. Despite challenges like near 100 degree heat and our heavy "MONSTER" antiques; Jerry directed his crew with a quiet voice and they accomplished their Herculean task with perseverance and amazing strength. Linda, they were heroic!"
"Crowning Touch made this move so easy, my sisters and I were amazed. The team of 3 men who worked that day were efficient, fast, courteous workers! Watching them didn't cause us any worry about damage. Linda Balentine was caring and professional when she came to the house to give us an estimate. Your concept of "one stop shopping" makes life easier for people like my family. Thank you so much for taking such good care of us."
"Thank you Jerry, Connie & Kari! In spite of pouring rain, you managed to make moving seem easy. We appreciate your taking the time and effort to do things properly! Mom is now well set up in her new larger apartment. A special thanks to Jerry, who came back to check mom's bed; all is fine!"
"It's hard to believe you could improve your services. Our experience with Crowning Touch was very pleasant from day one. The packers, movers, office personel and Linda Balentine were all instrumental in making our move a stress free experience. Packers Connie & Barbara were very efficient. The movers led by Jerry Smith and TJ Mason, provided a well organized system of moving all our items, taking great care not to damage anything. It took less time than estimated to make our move and most important, it cost less than originally estimated. Keep up the good work you all are doing at Crowning Touch. We hope all your future customers will be as pleased with your services as we have been."
"Last fall I emailed you regarding my parents, Bob and Mary Lu Clark regarding a possible move from their home on Woodbridge Avenue to a new location within Roanoke. You were so prompt in your reply and provided excellent information as well as encouragement.

"I knew before my correspondence with you that my mother was a huge fan from afar of your organization. She had sent me articles about your company (often saying that your business reminded her of something she and I might run–if we were in business together) and what you had accomplished filling a needed niche within the community.

"I felt so good when your company's services were retained for their move to The Glen this Spring. They had so many ups and downs with selling their home and finding another one to move to that I believe the move was the easy part. You all showed up on time, had plenty of help (workers with great attitudes–what a plus!), and got them to the new location without a hitch. Even when my poor mom wasn't all packed on moving day your folks swooped in and finished up for her. And the best part was that you all provided cleaning services when they were out of the old place. We've moved as a family many times and I've moved multiple times on my own and I know that cleaning up afterwards is something that is necessary but not fun at all!

"My parents new place is an absolute gem and they feel like they've always lived there. So I want to thank you for all you and your staff did to make this move a great one for them! They are incredibly happy and can't say enough good things about your company. Thank you for living up to your name!

"I'm interested very interested in the scope of your business. Do you have franchises? Your services seem like they would fit in almost any area across the country.

"My husband and I hope to move to the Roanoke area at some point from South Carolina. I only wish we could have you move us.."
"After my Mom died in August 2012, I was left with the task of cleaning out a three story townhouse. I had no idea of how to do this and it was a very stressful time. My realtor suggested calling Crowning Touch and I am so glad I did. Linda came out and went through the townhouse with me floor by floor and it felt like the weight of the world had lifted off of my shoulders. Finally I had a plan. Some of the items were moved to Blacksburg to my daughter's apartment and the rest went to consignment. This was all done in one day in less than five hours including the travel time to Blacksburg and back. I kept track of the time and the movers kept track of the time and we both came up with the exact same amount. This proved to me the honesty of the movers.

"I would also like to share an additional personal experience which represents the honesty and integrity of the movers and the entire Crowning Touch Company. My Mom had a small jewelry armoire which was moved to consignment. My wife, daughter and I went through this armoire on multiple occasions to clean out all of my Mom's personal jewelry. As far as we knew, this armoire was picked clean. After it was moved to consignment, I got a call from one of the movers, which was actually after hours, notifying me by voice mail that they had found additional jewelry in this armoire. I could not believe that we had missed this jewelry as many times as we had checked this armoire. I called the company the next morning and went by to pick it up. The movers had bagged the jewelry and returned it to Linda to keep in a safe place. As it turned out, the top of the armoire opened up, and I never knew that. This jewelry could have been kept by the movers and I would never have known anything about it or that it was ever there. This type of action really shows the true character, honesty and integrity of all the Crowning Touch employees."

Sincerely and Best Regards,
Crowning Touch is the only moving company in America with a consignment shop, auction house and real estate division.
Open Tues. thru Sat. , 10 a.m. to 5 p.m. Closed Sundays. Please call for holiday related changes to our regular schedule.
ALL CONSIGNMENT/AUCTION ITEM(S) DROP-OFFS ARE BY APPOINTMENT ONLY
Monday through Friday 8 a.m. to 5 p.m.
Closed Saturday and Sunday.
Monthly Auctions In-House or Online! 
Next Auction:  October 12-14