from humble beginnings to an award-winning company
Starting in 1996 as a local mover, Crowning Touch began catering to the specific needs of the high growth senior citizen market. With prompt, polite service, and an experienced staff, Crowning Touch has introduced a level of service and care that is unsurpassed in the moving industry.
We never hire temporary workers or day laborers. Every employee is aware of the unique concerns that seniors have leaving a familiar home of many years, often without a spouse. They are trained to build confidence in their clients because they have a wide range of expertise.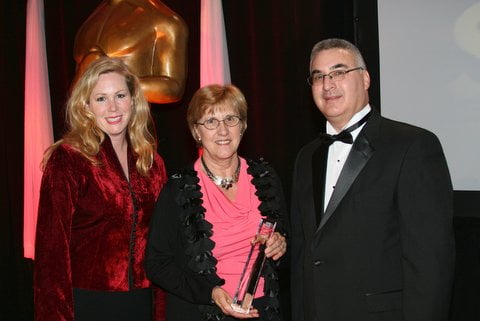 It is no coincidence that after winning the annual, "Best Moving Company" awards from The Roanoker magazine for 10 consecutive years, we won the prestigious NATIONAL ENTERPRISE AWARD in 2011 from the American Moving and Storage Association for America's Most Outstanding Small Moving Company. That's a big deal!!!
At Crowning Touch, we pride ourselves on the ability to personalize every move. There is no detail too small for us to handle as we eagerly focus on seniors' concerns normally pushed aside by other moving companies. We create intimate relationships with clients because we go the distance with them.
Crowning Touch Senior Moving Services has truly earned the sterling reputation we enjoy.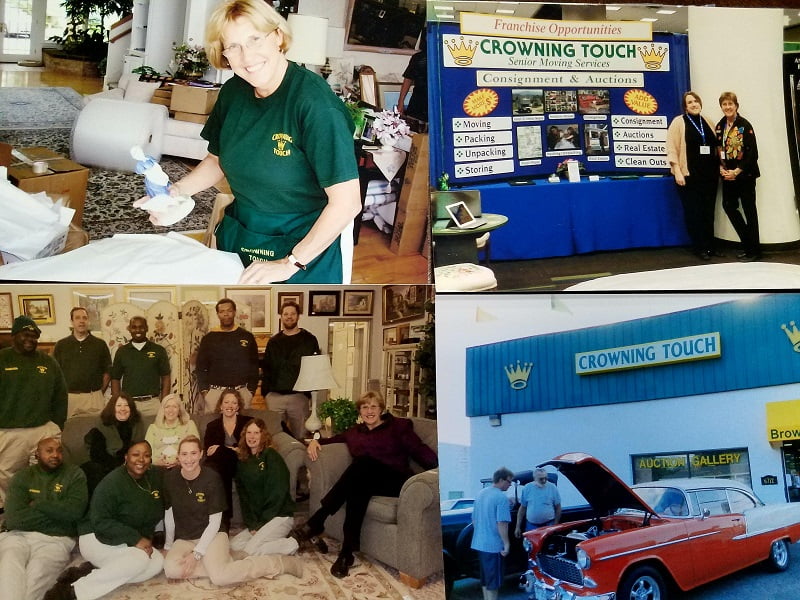 A MARCH OF MIRACLES: THE CROWNING TOUCH STORY
The Latin phrase "Sic Parvis Magna" is often translated to "greatness from small beginnings." It is perhaps the most wonderful phrase one could use to describe the story of Linda Balentine. In 1996 Linda Balentine was homeless. Today she is the founder and owner of Crowning Touch Senior Moving Services.
Her story is an inspirational tale for entrepreneurs everywhere. It proves that a timely idea, coupled with good old-fashioned hard work, can yield some amazing results. Join us as we take you back twenty-two years to the humble beginnings of Crowning Touch Senior Moving Services.
the origins of crowning touch
To accurately tell this story, I sat down with Linda Balentine herself so she could tell me the story in her own words.
People always ask Linda where she got the idea for a moving company as unique as Crowning Touch. It all started in Highland County, Virginia, where Linda had lived for over 25 years. After a divorce from her husband at the time, Linda was forced to sell everything.
She and her husband owned a mailbox company together that was sold to the largest mailbox company in the United States at the time, The Solar Group. They agreed to give Linda and her husband royalties over a three year period.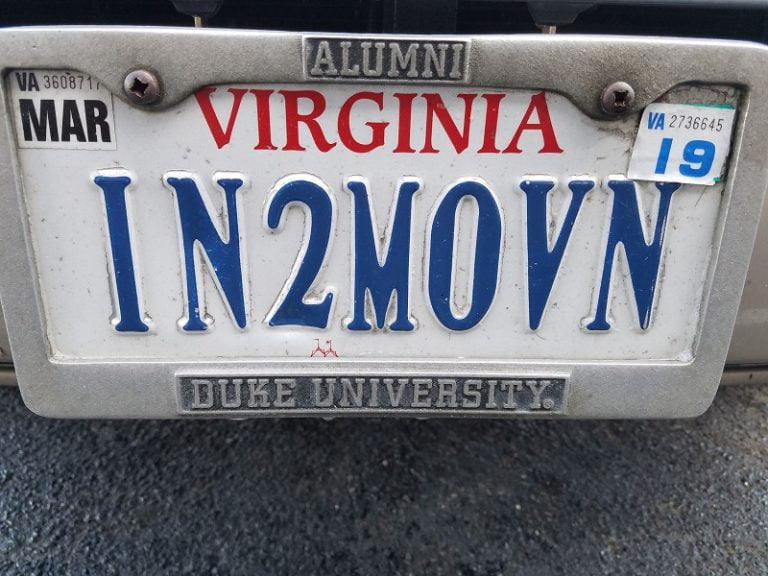 During this time, Linda and seven employees were supposed to maintain the product line in Roanoke, Virginia until the new company could absorb her old one.
This was her plan for the foreseeable future, but it had an expiration date.
Towards the end of this agreement, an old friend and colleague who now owned a moving company in Roanoke approached Linda.
He wanted Linda's help developing a new profit center for his moving company. This was when she created the concept of a senior moving company. She agreed to do the R&D and build a new profit center for him. After presenting it to him and the board, she expected to be paid.
What she didn't know, was that this moving company was going under. Linda was left without her promised income, resulting in her homelessness.
After four months of due diligence, Linda knew this idea was too good to abandon. It was a great new concept; it just needed legs to go somewhere. She had no money, but she was determined to develop the idea because there was nothing else like it in the United States.
Linda had never hired a mover before, but she started pursuing the idea. She interviewed senior citizens, their children, and directors of retirement communities to help build the service menu still used today. The demand was there.
starting the moving company: step-by-step
To alleviate her homelessness, two CEOs from her church offered Linda, her daughter, a dog, and two cats a place to stay over the next year. She stayed with each one for six months.
Her bed was her desk. She had no truck and no employees. She worked on marketing during the day and developed her promotional material using a computer program at night.
Finally, a local realtor recommended her moving company for a job, but Linda didn't have any employees. She went out to the local fire and police departments to recruit help.
These were people of strong character who had a set schedule, so Linda knew they would be a perfect fit.
At one point, Linda recalls walking out on a basketball court while they were playing.
She put her hands up and said: "I've got a move tomorrow! Anybody out here wanna come help me?" And it worked.
Linda went to rent the truck herself, took blankets from the room she was staying in, and taught her workers how to pack.
She created Crowning Touch's unique method of packing based on good common sense and treating items the way anyone would want them to be treated.
This unique method of packing has earned Crowning Touch Senior Moving Services over a decade of awards for zero insurance claims in any of their moves.
The next big step came in the form of a meeting with a local bank and its executives. Linda was supposed to do a presentation for them. When the day came, she was in a rush. Coming from a pack, she was dirty, sweaty, and dressed in her uniform, complete with a ball cap. She had no time to change.
"I had to be just real," she says, laughing as she describes this big day.
After the presentation, one of the vice presidents asked her to come to his office. She went inside, he closed the door and says: "I want to buy stock in your company."
Linda was shocked. She told him she didn't have a business plan. His response?
"I'm not investing in your company; I'm investing in you."
After he came back from a vacation, he gave Linda $10,000 to invest in her moving company. She took $5,000 of it and invested that into an old GMC pack truck.
She also rented a storage unit for packaging materials and blankets to use as furniture pads. It was at this time that she sought out new investors. With new money coming in, she found used equipment for great prices, like her first moving truck.
The company was growing, but little did Linda know that an even bigger change was coming into her life.
A year after the moving company had been created, things were going great for Linda, but she was still living in someone else's house.
Linda had been divorced from her husband for six years, but after all that time, he came back to her, and he proposed again. After long nights of thoughtful praying, Linda decided that God wanted her to put their marriage back together again, so she said yes.
After their second marriage to each other, Linda and her husband have been together ever since that fateful day. Linda emphasized to me the importance of his support in developing the company during those early days.
He was "instrumental as a support system," she said. He is a master cabinet maker with a wide set of furniture repair skills as well. Linda truly believes that she could not have made it this far without his support.
Newly remarried, Linda and her husband were able to move into a house. The company was then moved from the bedroom of someone else's house to the basement of the home that she and her husband now own.
This was when she hired the very first employees for her company. She finally had a team, but Linda was still there for every moving job.
She was on every move for the first 6-7 years of the company's life.
This kind of first-hand experience gave Linda the information she needed to make the company even better.
In fact, one thing she noticed very quickly was that senior citizens had a lot of stuff.
They couldn't take everything with them, so it was a problem that Linda intended to solve with her company.
While most movers wouldn't offer any help with excess items, Linda wanted her customers to get the most value out of their move.
To test the market for this concept, Linda rented warehouse space at the corner of 581 and Elm next to the highway.
Initially, she bought the items her clients didn't want and sold them later.
She soon realized that, if the customers could wait, instead of taking cash immediately, she could sell the items for them on consignment and split the profits 50-50.
This allowed her to take items off their hands, but still put money in their pocket.
Linda, her daughter, and her husband put this idea to the test. They put out ads in the newspaper and invited people to come to the warehouse space to purchase the items she had collected.
It worked very well, which gave Linda the confidence to expand her business model. This is how the consignment shop of Crowning Touch was born.
Meanwhile, Linda had expanded out of the basement in her home and rented office space in downtown Roanoke. The rent was $600 a month. It added visibility and credibility to her brand. She was even able to hire a receptionist and a bookkeeper.
The next step for Linda was to open a second office. She wanted to move somewhere bigger and set her eyes on Richmond. She went out on a Friday and found the perfect place, in one afternoon, but the rent was $3,500 a month.
Worse, they wanted first and last month's rent up front as well. She met with the owners of the space, and they told her to act fast. Linda only had about $250 in her bank account, and no line of credit, so she was at a loss.
She called her bank and spoke to Steve Monroe, the VP of small businesses at the time. While Steve didn't know Linda personally, he was familiar with her company.
He told her to write a personal check, come in on Monday, and they would fund it. Something like that would never happen today.
Linda joked that she always tells that story to people at the bank and they can hardly believe it.
I was certainly shocked, but thanks to that gesture of good faith, Linda secured a second office for Crowning Touch Senior Moving Services.
It was open for two and a half years and made a lot of money for the company, even without a consignment shop.
She was the only sales person at the time. She told me she slept on the floor instead of making the drive back some nights so she could keep the business moving.
Then a new opportunity arose. The building where the company is located now became available, but it was very expensive.
more miracles in store for crowning touch
The building on Williamson Rd was perfect. Linda and her husband could use it to expand the business even further, but it was $400,000, and she needed 25% as a down payment.
Linda didn't have $100,000 to put down on this building, so she decided to sell the Richmond office. A local couple bought the business in Richmond and agreed to pay royalties. She had money now, but it was only enough to renovate the space.
Despite this, she went forward with selling the Richmond office. Her instincts told her it was a good move, but it was risky. According to Linda, if you're not willing to risk it all, then you're not ready to be an entrepreneur.
She recalled an equestrian expression as a lover of horses herself:
"Throw your heart over the jump, and the horse will follow."
This phrase, according to Linda, represents a lot of what it means to be a small business owner. In the spirit of this phrase, she signed a contract on the building with a 90-day close. She knew she didn't have the money, but she took the risk anyway.Sitting in her downtown office one evening, five days before the option was going to expire, Linda gets a phone call.
The person on the other end confirms it is her and then asks "Is Jesus Christ your Lord and savior?"
She, of course, said yes, but wanted to know who was on the other end of the line.
It was a man named Mark Laubach who owned a roofing company in southern California. He had gone to school with someone here in Roanoke who knew Linda needed $100,000 and he wanted to help.
Upon hearing about her situation, he told Linda he and his wife prayed about it and decided they wanted to wire her $100,000 to expand her company.
I was shocked at this turn of events, but Linda once again assured me this was a true story. He wired it to her one week before the sale would close, and the money would be due. He did this without any contract or agreement. It was simply an act of faith.
She agreed to pay him back with interest in five years. She paid him back in four. When she did, he called her and said that she had answered his prayer. He needed that money badly after making another investment that went bad. Linda's timing could not have been more perfect.
They moved into the building and fixed things up. The consignment shop opened, and everything was going smoothly.
Even with all of these things in place, Linda saw that there were still items she couldn't accommodate. Cars, boats, furniture, tools, and much more were still being left on the table. She was out of space.
That was when she came up with the idea to open Crowning Touch's auction house. There was a building next door that would be a perfect fit. Linda called the owner and expressed interest in buying the building.
The owner told her he was looking to sell. Linda came up with an offer in fifteen minutes, and they struck a deal over the phone.
They set up the auction house and started doing monthly auctions with an auctioneer. It got very popular very quickly. With every move, new items came in, and other auctioneers took notice.
At one point, a competitor called the fire department and had the marshall come out because Crowning Touch didn't have a certificate of assembly. The fire marshall said they had to shut down right before an auction.
The only way to satisfy the requirement was to move all the chairs out. This would make it a retail space no longer requiring a certificate of assembly.
It was impossible for a traditional auction to be carried out one item at a time. People couldn't stand for hours on end.
At this point, Linda needed a new auction system, and fast. Her husband devised a new model where people could go to one of several tables to bid on lot numbers. It worked well, but the model wasn't automated.
At the end of the auction, everything had to be calculated by hand. It worked for a few months, but it wasn't fast enough
That was when Charles Helvey came to visit a Crowning Touch auction. He was a software engineer who wanted to help Linda optimize their unique way of bidding.
He agreed to write the program and take a percentage of the profits until he was paid off. The program has since been updated and copyrighted, but it is still a one-of-a-kind bidding platform.
Auctions happen in real-time with people bidding on their phones or calling in to place a bid. People can come and see the items in person before they bid. You can even set a limit and let the computer proxy-bid for you up to that point. The new Browse and Bid is a hybridized system that combines online bidding with a physical event.
The final addition to the business model was the real estate division. Crowning Touch Senior Moving Services added a real estate broker that allows them to sell houses "as is." Where other realtors will force owners to update the place and renovate, Crowning Touch will sell it without any major changes.
This allows seniors to sell the house quickly and use equity money towards their moving costs. It also offers a lower price point that gives new homeowners a great first house that they can upgrade later.
the future of crowning touch
Crowning Touch Senior Moving Services is a unique and full-service moving company, and the future looks brighter than ever. With an incredible reputation for above and beyond customer service, and a strong presence in the Roanoke community, Crowning Touch is looking forward to growth beyond the Roanoke Valley.
Linda plans on expanding the company with additional franchises, to bring this unique business model to other cities and states. This incredible story is one of many.
Remember, there's nothing we won't do FOR YOU! Now that you've seen Linda's story don't forget to share your own Crowning Touch stories on our Facebook page!
Crowning Touch is the only moving company in America with a consignment shop, auction house and real estate division.
Open Tues. thru Sat. , 10 a.m. to 5 p.m. Closed Sundays. Please call for holiday related changes to our regular schedule.
ALL CONSIGNMENT/AUCTION ITEM(S) DROP-OFFS ARE BY APPOINTMENT ONLY
Monday through Friday 8 a.m. to 5 p.m.
Closed Saturday and Sunday.
Monthly Auctions In-House or Online! 
Next Auction:  December 7-9