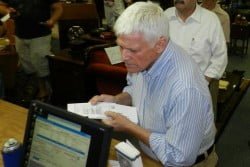 Thursday, October 12th
10am – 6pm
Friday, October 13th
10am – 8pm
Saturday, October 14th
10am – 8pm
Sign up to be notified about our monthly Auctions

Do not move any items from one tray or box to another.
Parents: monitor your children. All patrons will be held responsible for broken items.
No items can be removed from the building until all items are paid for.
Paid invoice must be given to a staff member in the auction house. They will collect your items and bring them to you.
You are responsible for the wrapping and boxing of all your own items. We will supply boxes and packing paper for a minimal charge.
All items must be picked up and paid for by 6pm on the Wednesday after each auction or a 15% buyer's premium will be added to the invoice to any bidder that neglects to pick up items they have won.  Disbarment is at the discretion of the management.
You alone are responsible for the accuracy of your bids. Please check online.
All bids are final after 8pm Saturday night.
You are responsible for checking after each auction on any bids you have placed to see if you have won.
Any gasoline powered or electronic items that are defective must be returned within 7 days to qualify for refund.
Returned item(s) will be tested and a refund will be mailed within 5 business days if qualified.
Extended Bidding (Soft Bid Close): If a bid is placed in the last 3 minute(s) the auction will automatically extend for an additional 3 minute(s). Bidding will remain open on such an item after 8 p.m. until more than 3 minutes has passed without an additional bid placed.
Our auction house phone number (540) 904-6712.
Crowning Touch is the only moving company in America with a consignment shop, auction house and real estate division.
Open Tues. thru Sat. , 10 a.m. to 5 p.m. Closed Sundays. Please call for holiday related changes to our regular schedule.
ALL CONSIGNMENT/AUCTION ITEM(S) DROP-OFFS ARE BY APPOINTMENT ONLY
Monday through Friday 8 a.m. to 5 p.m.
Closed Saturday and Sunday.
Monthly Auctions In-House or Online! 
Next Auction:  October 12-14